7pm Floorcraft February: A Lindy Hop Workshop
February 25 @ 7:00 pm

-

8:00 pm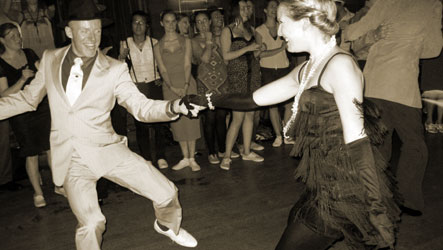 This month's workshop topic, floorcraft, is a much needed skill in ALL levels of dancers, both lead and follow. It's never too early, and certainly never too late, to learn. We just recommend having taken at least one month of our beginner progressive series or equivalent so you have steps to work with. This is a topic we don't get to cover often but EVERYONE should know, so catch it while it's here!
What's "floorcraft"? Floorcraft refers to how you use your space – or lack there of – for an optimally enjoyable dance. It's the art of not running into people or things on a crowded dance floor and also maneuvering around when there is space. We can't stress enough that this is a team effort with both lead and follow responsibilities.
This 1-hour workshop will be packed with tricks and tips, obstacles, games, and teamwork. We've got some fun things up our sleeves!